If you've been following me here or on my Instagram page, you will know by now I love baking brownies. I can't get tired of trying new brownie recipes. I want to try all the brownie recipes pinned on my Pinterest and saved on my Instagram.
I recently bought a beautiful brownie square pan and couldn't wait to bake little pieces of goodness in my new pan. But I was afraid to try regular 8-inch size pan recipe to bake in brownie square pan.
I digged into my Pinterest and found this amazing brownie recipe by Anna Olson. This recipe can also be baked in an 8-inch square pan if you don't have a brownie square pan.
The star of the recipe are roasted pecans but I skipped the pecans because I did not have pecans available in my pantry. But these brownie squares taste so amazing even without pecans!
I also made couple of more changes to the recipe. The original recipe calls for unsweetened chocolate. I used semi-sweet chocolate and adjusted the amount of white sugar.
The original recipe calls for dutch-process cocoa. You can use natural cocoa if you don't have dutch-process cocoa available in your pantry.
All of my recipes posted here on my blog are written in both weights and cup measurements. The original recipe uses cup measurements. I have not tried this recipe with weight. So I'm posting this recipe with cup measurements. My cup size is 240 ml. It can help you to achieve similar results.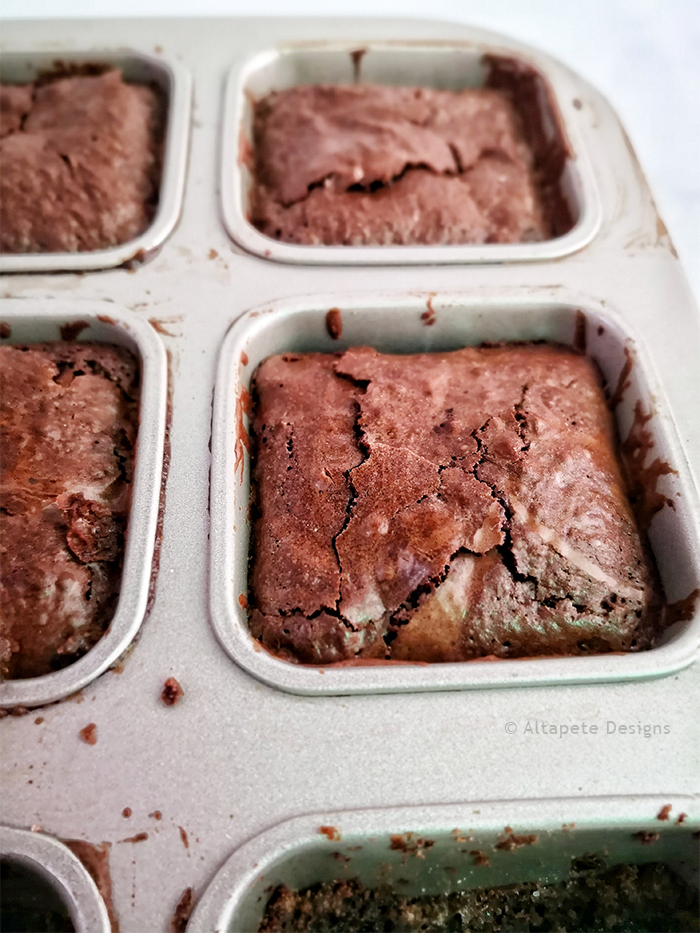 It's a quick recipe with basic "brownie-ingredients". You can quickly whip up these brownie squares to serve with ice-cream as a crowd pleasing dessert. You don't need a crowd to bake these amazing brownie squares. You can always give yourself a brownie treat by baking these easy and lovely brownie squares. It's been two weeks since I've baked any brownies so it's time to bake these squares again because I've some praline ice-cream hidden in the freezer and you what does that mean 😀
If you try this recipe, don't forget to leave a comment or tag me with your pictures on Instagram. It makes me feel super happy when you do that 🙂
Ingredients
4 oz semi-sweet chocolate, chopped
1 ¼ cup unsalted butter, cut into pieces
¾ cup granulated sugar
¾ cup packed light brown sugar
3 large eggs, room temperature
1 tsp vanilla extract
1 cup all-purpose flour
¼ cup Dutch-process cocoa powder
Instructions
Melt the chocolate and butter in a medium sauce-pot over medium-low heat, stirring until melted. Remove the pan from the heat and whisk in the sugar and brown sugar right into the pot. Whisk in the eggs one at a time, then whisk in the vanilla. Stir in the flour and cocoa powder until evenly combined.
Divide the batter into the bar pan, or spread into the 8-inch pan. Bake for about 20 minutes, until the tops of the brownies lose their shine. If baking in an 8- inch pan, bake an additional 5 minutes. Cool the brownies for an hour before removing from the pan.
The brownies will keep in an airtight container for up to 5 days.
Notes
* You can replace dutch-process cocoa with natural cocoa in this recipe. * You can also use an 8-icn square pan to bake this brownie recipe if you don't have a brownie square pan.
http://altapetedesigns.com/recipes/brownie-squares-recipe/